Special Lecture by Mr. Haruhiko Kuroda, Governor of the Bank of Japan [Important information added (4 June)]
(2016/5/25)
[Added Information]
We colsed the online registration as the number of registered participants reaches capacity. (8 June)
* Those who have not registered will not be allowed into the hall.
Important instructions to the participants have been added to [Attention] in red letters.(4 June)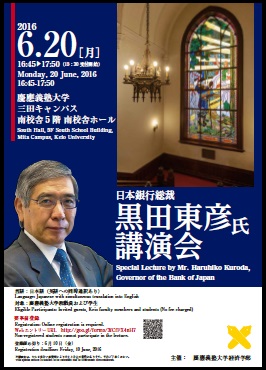 [Date and Time]
Monday, 20 June, 2016 16:45-17:50
* Registration desk opens at 15:30 and closes at 16:40
[Venue]
South Hall, 5F South School Building, Mita Campus, Keio University (access)
[Language]
Japanese with simultaneous translation into English
[Eligible Participants]
Invited guests, Keio faculty members and students (No fee charged)
[Registration]
Online registration is required. Click here to register for the event.
Registration deadline: Friday, 10 June, 2016
* We colsed the online registration as the number of registered participants reaches capacity. (8 June)
* Non-registered students cannot participate in the lecture. Please bring your student ID card on the day.
This special lecture is subject to be cancelled due to unforeseen circumstances.
[Attention]
The following participants will not be allowed into the hall even if they have registered online.
Students who do not carry their valid Keio student ID card with them.
Those who arrive too late to check in at the registration desk. The desk closes at 16:40, and no entry is allowed after the lecture starts.
Those who bring luggage too big to fit under the seats and/or hazardous materials.
We regret there is no cloakroom at the venue.