Subscription to Financial Times digital (FT.com)
(2017/9/4)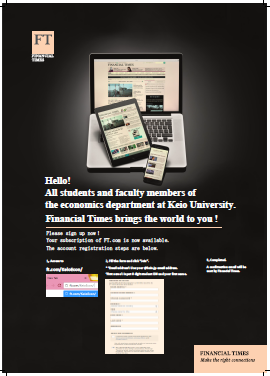 From September 2017, full-time students and faculty members of the Faculty of Economics and the Graduate School of Economics can subscribe to Financial Times digital (FT.com) for free.
Please access to:
ft.com/KeioEcon/
and fill in the registration form.
FT.com is available upon receiving a confirmation email.
Note:
Registration requires your @keio.jp email address.
Students must enter their student ID number and first name in the "First name" area (faculty members are exempted).