The Faculty of Economics Information Session in Osaka
(2018/5/24)
The Faculty of Economics at Keio University will hold an information session in Osaka.
This information session offers you the opportunity to learn more about us.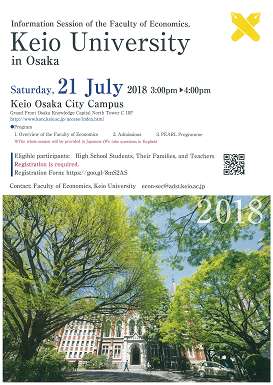 Date and time
Saturday, 21 July, 2018 3:00pm – 4:00pm
* Registration desk opens at 2:00pm
Venue
Eligible participants
High school students, their families and teachers
Application
Registration is required.

We are sorry that Registration is now closed because the information session has reached full capacity. (20 July)
Session Outline
Faculty outlines (Mission and philosophy, curriculum etc.)
Admissions
PEARL programme outlines
Contact
The Faculty of Economics, Keio University: econ-sec[at]adst.keio.ac.jp